Application for 2023-2024 Half- day / Whole- day Preschool  
(for children born on or before 31 December 2020)
Admission procedure
Distribution of application forms: from 27
th
 June (Monday)
Registration date: from 27
th
 June (Monday)
Registration time: Monday to Friday: 9:30am to 11:30am ; 2:00pm-5:00pm
Registration fee: HK $40( Non-refundable )
Kindergarten Briefing
Date: 8th October 2022 (Saturday)
Time: 9:30-10:00 a.m.
Registration:Fill out the online registration to register from today to 30 September 2022
Contents: Kindergarten's School-based Curriculum;
Teaching Philosophies;
Teaching and Learning Activities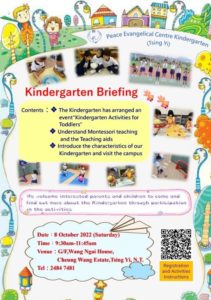 Remarks:
Depending on parents' response to the application, we may accept late application after

 registration.

Please prepare all the information needed when applying. If there is any omission, application will not be accepted.

Application fee will not be refunded.
Date of appointment
Date: November 2022
Time: individual notification
Download:
Information on Admission to K1 Class in the 2023-24
EDB's website on K1 Admission Arrangements: www.edb.gov.hk/k1-admission_e
Application Form for Admission
Reference materials:
1. School Fee :
    21-22 School Year
    Half-day Class : Free
    Whole-day Class : $750 per month (11 installments for a year)
2. Teaching materials and miscellaneous fees reference materials (please click the link below)