Application for 2024-2025 Half- day / Whole- day K1 Classes  
(for children born on or before 31 December 2021)
Remarks: Applying for half-day /full-day K 1 Classes or transfer students at all levels in 2023-2024
Parents are welcome to call our school at 24847481 to enquire about the school vacancies from the school office before enrolling.
Collection of application forms (no application limit):
Download the forms from the school website.

Obtain the forms at Kindergarten in person.
Distribution of application forms: Monday to Friday
( 9:30 am to 11:30 am ; 2:00 pm to 5:00 pm)
Procedures for submitting application forms (no limit for receiving admission application forms):
Monday to Friday (9:30am to 11:30am; 2:00pm to 5:00pm)
Submission method: Submit the application forms in person or by post to the Kindergarten with the following documents required:
Application form (completed with the student photo affixed)

Copy of Birth Certificate or Certificate of Permanent Residence
Copy of immunization record ( front and back )
4 return envelopes ( each with the mailing address, the recipient name written and a $2 stamp affixed )
Registration fee: $ 40 ( It is non-refundable whether the application is successful or not )
Remarks:
Upon application, please submit all relevant documents ; otherwise we cannot process your application.
The interview will be held in November 2023 . The Kindergarten will notify parents of the exact date and time by post.
Parents visiting the campus activity ( We welcome enquiry about it by phone. )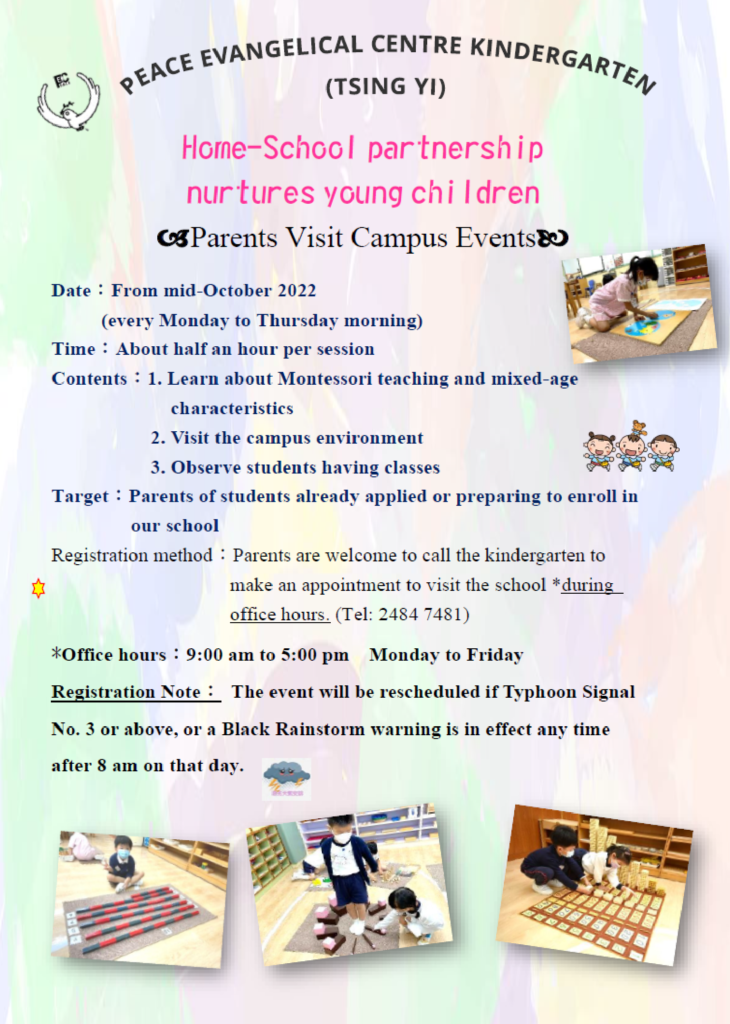 Download:
Information on Admission to K1 Class in the 2023-24
EDB's website on K1 Admission Arrangements: www.edb.gov.hk/k1-admission_e
Application Form for Admission
Reference materials:
1. School Fee :
    23-24 School Year
    Half-day Class : Free
    Whole-day Class : $800 per month (11 installments for a year)
2. Teaching materials and miscellaneous fees reference materials (please click the link below)